Welcome to the ninth edition of The Catch Block!
In this edition: pretty flowers, sanity, a Build, candy, CSS, CDNs, Source Generators, and motivation.
Life in the Time of COVID
It's been six weeks since Arizona Governor Ducey closed all our schools through the end of the school year. Six weeks since my kids got to see their friends and teachers in person, six weeks that they have been doing online learning, six weeks that they've been home with my wife K.C. and I. Six weeks of closeness, of madness, of being all up in each other's business.
So, in the spirit of unity, I thought I'd share the kinds of things we've been doing for the last six weeks to keep our sanity relatively intact.
Things like:
The older kids, B and A, both 10, have chores, though they often have to be reminded to do them. But once reminded, they've finally stopped complaining it. Not bad for only five months of this!
The youngest, K, broke her right arm about two weeks ago. Since that's her writing hand, K.C. and I have been having to write her homework for her, though she's dictating it to us. She loves the power.
Never having to wear pants is still awesome. Unsure when or if that will wear off.
We had a set of cloth masks made for us, but a couple of them broke. I was at Walgreens the other day, and asked the pharmacist if they were selling masks. She went above and beyond, and checked the store's back office, where a customer had apparently made the staff cloth masks. She comes out of the office and says "Well, I have good news and bad news..."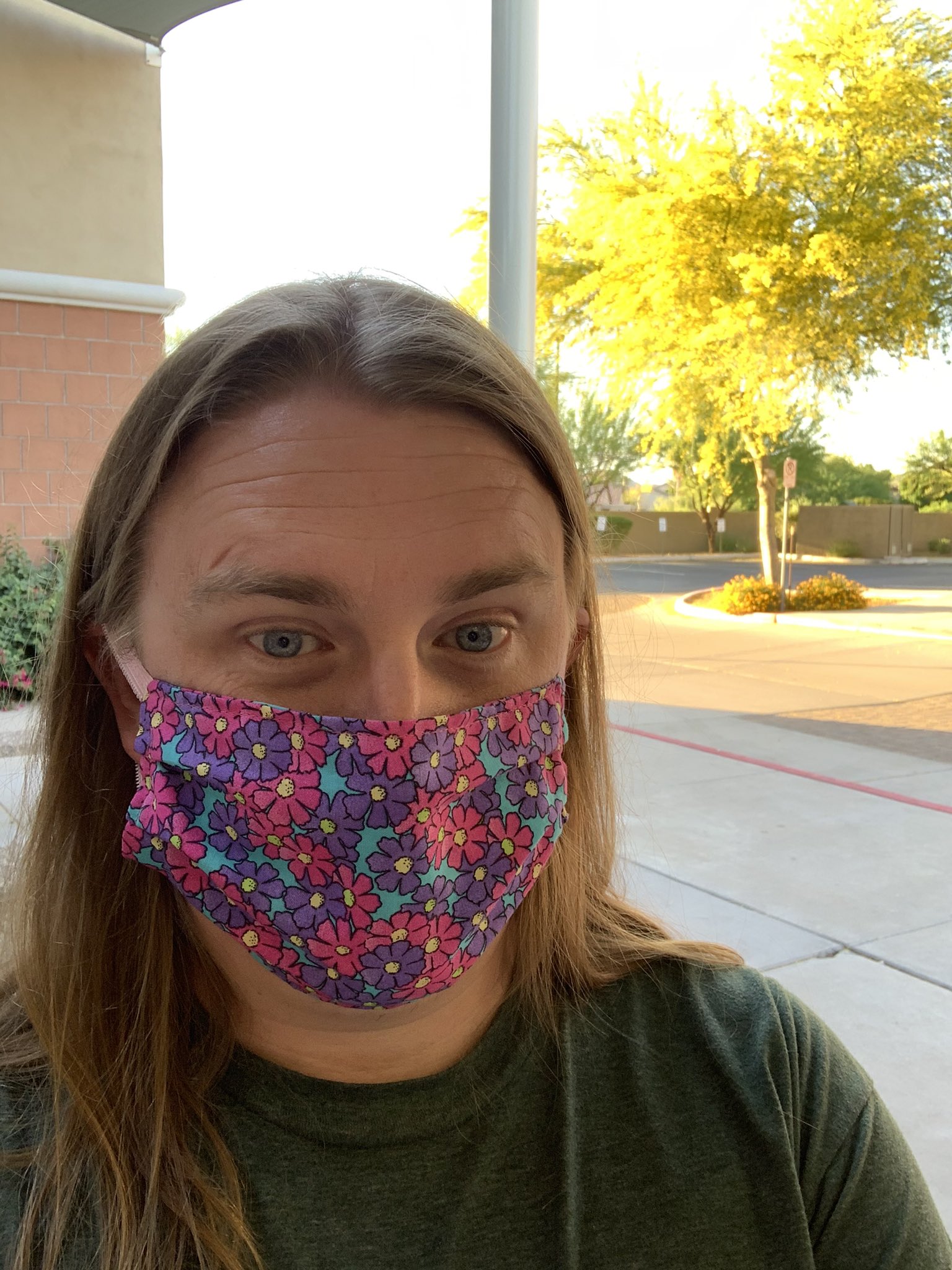 Board games are the best invention ever. Catan, Ticket to Ride, 7 Wonders, Skyjo, Fill or Bust, Risk, and Codenames have all served us well to pass the innumerable hours. The 7YO, K, loves board games, and consistently beats us at many of them.
Video games are serving a purpose too. K.C. is WAY into Animal Crossing at the moment, and I got a few video games for my birthday a week ago, so I am currently working through Final Fantasy VII Remake, Jedi: Fallen Order, and my perennial favorite Stardew Valley, whereas the kids all love Roblox, Splatoon, and Super Smash Brothers.
Yep, you read that right, I was one of the unlucky people to have a birthday during the lockdown. I'm still glad it was me and not one of my kids, I wouldn't want them to experience a birthday without friends and family coming over.
As much I would rather not, much of our screen time monitoring for the kids is out the window. There simply isn't enough things to do. But we do keep track of what they're doing, and who they're watching. Apparently someone named Flamingo on YouTube?
I make a point to spend some time with the kids in the morning before going to work. We are, together, watching and discussing The Clone Wars and are looking forward to Avatar: The Last Airbender coming out on Netflix, which none of us have seen. This is a great way to wake up, I just wish it was more active.
Also due to my birthday, and due to my undeserved reputation of having a massive sweet tooth, I got a big ol' bag of candy about a week ago, including my favorite: Jelly Belly. It is now hidden in my closet, and my kids are not currently aware that it exists. We'll see for how long I can keep it hidden, or if I just eat it first.
For the first time in, well, ever, we went an entire month without needing to fill up a gas tank in our car. It is a strange feeling to know that gas stations exist but not remember what they are for.
And finally, I am seriously going to miss working from home all the time when this is all over. From not having to wake up at 5:45AM, to not having to spend 1.5 hours a day driving, to being able to hang out with my kids before work, to petting my dogs when a problem is driving is me crazy, I am going to miss working at my house. My next job (if I ever get one, since I love my current one so much, yes, seriously) will probably need to a remote position. Anybody else feel the same way?
The COVID crisis has made many things more difficult. But now, after having done all this for six weeks, it's finally starting to feel like the new normal.
Microsoft Build is May 19-20!
Don't forget, Microsoft's premier conference Build is all free and all-virtual this year! Register now, and check out Scott Hanselman's blog post about it!
A Quick Apology
Last week, I sent this newsletter email with the header "Test Email". This was the result of me testing new features in Ghost, and I did not notice that I had not set back the appropriate field after the test. I apologize for the confusion.
Cool Reads
A Complete Guide to CSS Functions (Eric Bailey) - Considering I didn't even know until just right now that CSS even had functions, I already learned something. This site (it's kinda-sorta an article, but there's more to it than that) helped me start understanding what these functions are for, and how to use them. For example, a line of code I already use quite a bit is a function, I just didn't know it:
Top 10 Books Every C# Developer Should Read (Thomas Ardal) - I don't normally link to these kinds of posts, but this is a good one. These books, several of which I have read, are useful references for any C# developer, in particular the very first on the list: C# In Depth by Jon Skeet. If you haven't read these books, see if you can grab a copy!
Previews and Announcements
Quality Reads
Catch Up with the Previous Issue!
Thanks for reading, and we'll see you next week!